Adams and Chittenden Scientific Glass
George and Tom are retiring. They sold their Berkeley-based manufacturing company to the employees.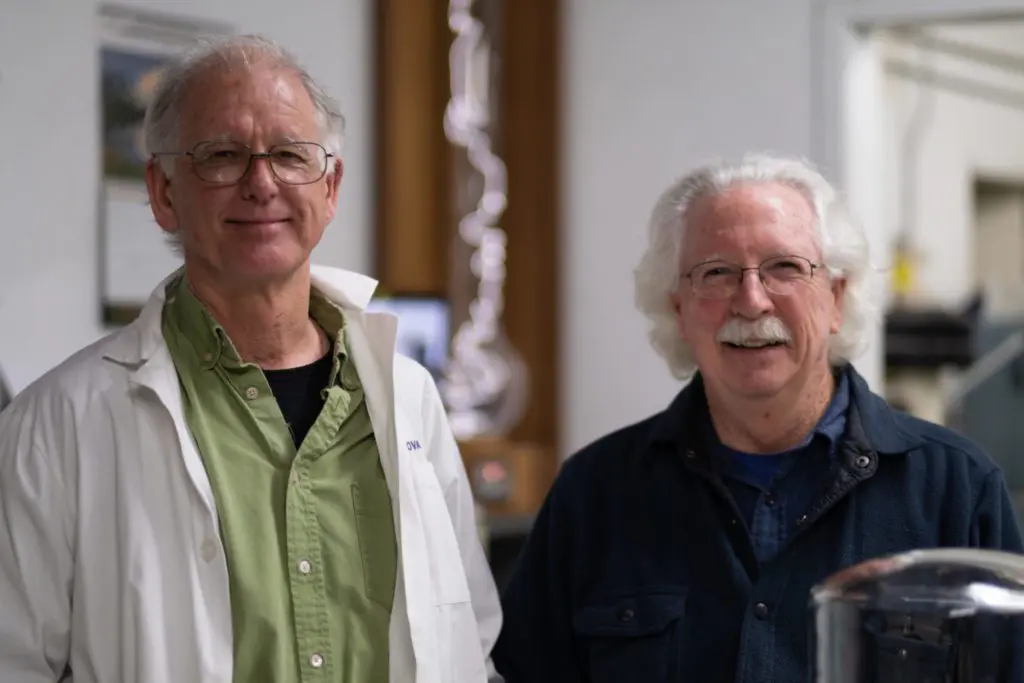 Background
Adams and Chittenden Scientific Glass was started in 1993 by George Chittenden (left) and Tom Adams (right), two skilled glassblowers who had minimal business experience. Over the course of 25 years, their business has become well regarded worldwide for its intelligent designs and for the quality and accuracy of its custom glassware (think tools for science). As their business is highly specialized, they now find themselves in a dilemma shared by many impending retirees. Their situation is increasingly common: they are seeking an exit strategy that works for them and for their employees. Tom put it this way; "When it came time for us to think about succession, the thought of finding someone to buy us out seemed highly improbable. We have a very distinct niche in the manufacturing world, and there wasn't any obvious path forward."
Tom began scientific glassblowing in 1971, working for a shop in Berkeley, which George joined in 1984, having previously apprenticed for several years with a European-trained glassblower. Less than a decade later, an investor with a Master's degree in business (but no experience in scientific glass) bought that business. Within three years, Tom, the production manager, left, and George, concerned about his future in the hands of the new owner, panicked. He went to Tom with a half-baked idea that turned into their now thriving company, Adams & Chittenden.
Becoming employee-owned
Tom and George first looked at the idea of employee ownership through the National Center for Employee Ownership, an organization specializing in Employee Stock Ownership Plans (ESOPs). After an initial consultation, however, it became clear that an ESOP wasn't workable at their scale. In March 2017, Tom was listening to NPR when he heard Alison Lingane, the co-founder of Project Equity, discussing their approach to helping another Berkeley business, one facing a similar situation to their own; transition to employee ownership. So, he contacted Project Equity, and the transformation at A&C began.
Transmitting a combined 80+ years experience in an idiosyncratic field isn't trivial and the thought of passing on this accumulated knowledge in a short amount of time concerned both George and Tom. Would it really be possible for someone else to step into their shoes given the time frame? After all, when George and Tom started, they, themselves, weren't seasoned business people, but they learned. George noted, "hiring Project Equity as a third party brings objectivity to the table for the employees. The straightforward honesty with which they approach the work is credible and valuable. They help the employees understand that we are operating in good faith." As they transition their employees to owners, Tom and George notice their employees paying greater attention and taking responsibility for the work and the business. Project Equity also helps Tom and George continue doing what they do well—blowing glass and running the business. "Before engaging with Project Equity, the process seemed daunting and relatively obscure, not to mention impossible to imagine as an additional burden" continued George. "Project Equity's guidance and support in the formulations of issues such as bylaws, decision-making tools, legal help, and the financial pieces have made it easier than we thought. They've delivered it in a clear and accessible format."
Business transition logistics 
Tom and George had a lot of questions about how the employee ownership transition process would work. How could the employees get the capital to purchase the business? What role would they play and how long would it take to transition out? They also were concerned with how the company would live without their leadership and maintain the unique culture, character and independence. As a legacy business in West Berkeley, they also wanted to see the company maintain a thriving manufacturing space in the neighborhood.
The transition of Adams and Chittenden Scientific Glass to an employee-owned company took 19 months. The sale was the first one to be financed through Accelerate Employee Ownership, a joint initiative between Project Equity and a national CDFI, Shared Capital. Accelerate Employee Ownership provides flexible financing for employee ownership transitions. For the employees to become owners, one of the requirements is a buy-in of $2,000 which they have made possible through payroll deductions. They have 8 employees, 7 of whom are employee-owners. George continues on as CEO, primarily focused on operations and staff management and Tom is the CFO, spending his time transitioning his role as he eases into retirement.
Though the COVID-19 pandemic has seriously impacted normal operations, they have managed to keep the workflow going while observing distancing protocols. Like so many businesses these days, they have resorted to Zoom as a tool for communication, but the actual training in glassblowing has been hampered by the global situation. Tom likes to say "it's hard to blow glass at home…." A lot of the work in their first year following their employee ownership transition has been around strengthening and creating new processes that have allowed them to communicate and thrive as a group of owners.The whole coop meets weekly to review status of the business. The team is implementing good and important practices such as open book management and have monthly board meetings for trainings on growing a healthy employee-owned company. Project Equity continues to hold regular coaching calls with key members of the board.
Outcomes
When asked what's next for both George and Tom, they smile; the possibility of not having so many responsibilities and enjoying the fruits of their labor seems real and not so far away.
Tom is older than George and is on track to retire sooner. But hopefully, they will both be able to continue to enjoy the work as they begin their "glide path out." As employee-owners, they can continue to support the business and reputation they have built from scratch, and help shepherd in the next generation of scientific glassblowers. They have no doubt that this old-style craft can and will continue to be relevant in this century. And for them, slowing down feels like the natural order of things.