This Labor Day, here's how to fortify labor—and local businesses
When either is in crisis, both suffer. But there's a fix.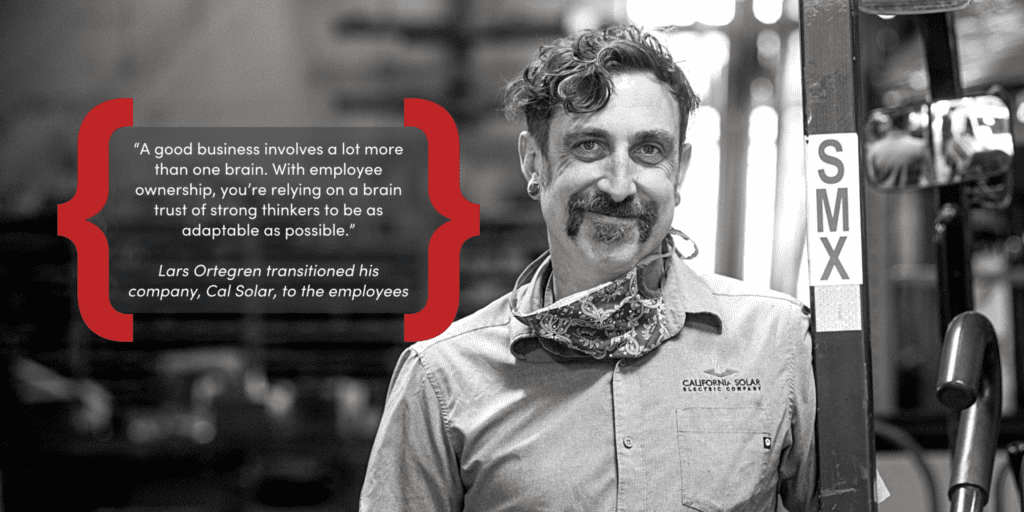 Our workforce is hurting this Labor Day.
While this summer seemed promising, recent surges of COVID-19 have dampened the quick economic recovery we'd hoped for. A year-and-a-half after the start of the pandemic, two out of three small business owners nationwide still cite a negative impact from COVID-19.
The situation for workers is no less critical, as small businesses account for almost half of all jobs in the U.S. The pandemic has forced the conversation about whose work is essential, what wages are sustainable, and what conditions workers are willing to accept. While crucial, they aren't the whole picture. Rather than pitting bosses and employees at opposite sides, there is a structure that provides good local jobs while bringing the owner flexible succession and a fair price: employee ownership.
Take Nevada County business owner Lars Ortegren of Cal Solar. In 2019, Ortegren shifted his model to employee ownership and quickly saw the benefits. "A good business involves a lot more than one brain," says Ortegren. "You're relying on a brain trust of strong thinkers to be as adaptable as possible. The beauty of the model is that it allows everyone to be vested in the success of the business."
Chuck Holding, a Cal Solar employee-owner, knows the model helped the business get through COVID-19. At the height of the pandemic, employee-owned firms were four times more likely to retain staff than other businesses. When comparing Cal Solar's experience with other businesses, Holding reflects, "In a world where businesses were literally closing, we hired back our entire team—even grew it."
Employee ownership becomes more critical when looking at the magnitude of this "Silver Tsunami." Weathering a crisis may be hard for all business owners, but retirement-aged owners face unique challenges. Many wonder if taking out new loans at their age is wise. On top of that, most have no exit strategy or concrete plan for their business or employees once they retire.
Building on previous data analysis, Project Equity's recent study reveals the overall percentage of businesses with owners at or near retirement age jumped from 45 percent to 50 percent in just five years. This impacts almost three million businesses nationwide—350,000 in California alone—employing nearly one in five private-sector employees.
Employee ownership is a solution that ensures the current owner can transition their business for a fair price while allowing employees at every income level the opportunity to own equity in the company they work for. With the median wage income of employee-owners at thirty-three percent higher than their industry counterparts, employee ownership can also address longstanding income and wealth inequality issues. Cities and counties like San Francisco, Berkeley, Santa Clara, Long Beach, Los Angeles and others across the state have invested in employee ownership to address local small business and workforce challenges and reap its benefits.
It's important to note: this staggering Silver Tsunami data reflect pre-pandemic levels. What will future data show if we don't shore up these businesses and jobs now?
Of course, the transition to employee ownership doesn't happen overnight. Selling owners and new employee-owners often need transition financing and other types of support. Impact investors and philanthropy have a role to play, as do local municipalities and workforce development boards, and organizations like Project Equity.
Beloved local businesses and the jobs they provide are a vibrant part of our communities. Yet, without intervention, many businesses we cherish and rely on will close. Emerging from the pandemic, we have an opportunity to do things differently. But we must act now. Our local businesses and the people they employ can no longer afford business as usual. The good news is that with employee ownership as an option, they don't have to.