Training for business advisors
Practical courses to help you present employee ownership as a profitable exit strategy for your clients
Are you a business advisor with clients nearing retirement? Are your clients looking to exit on their own terms? Are they looking for an exit strategy that benefits them and their employees?
If you have small business owner clients who need exit option recommendations, our EO ExitPro course can help.
Project Equity's EO ExitPro Course will:
Equip you with the knowledge and tools to effectively serve in quarterback, point person or referral roles for employee ownership exit transitions for your clients
Help you and your clients understand employee ownership profitability
Provide you with subject matter expertise from fellow small business advisors in the industry
Open up additional revenue opportunities by allowing you to offer EO exit planning services to your local business community
Count toward your CE credit for CFP (1 hour) and EPI-CEPA (1.5 hours)
Project Equity offers accredited EO ExitPro courses designed specifically for exit planners, CPAs, CFPs, wealth planners, attorneys and other small business advisors. The courses cover a wide range of topics, from the basics of employee ownership to more advanced strategies for maximizing the benefits of employment ownership as an exit strategy option for small business owners.
ExitPro 101 has been accepted by the Certified Financial Planner Board for continuing educational credit. Upon successful completion of the program, 1.0 CE credit will be granted by the CFP Board. 
ExitPro 101 has also been approved for continuing education credits by the Exit Planning Institute.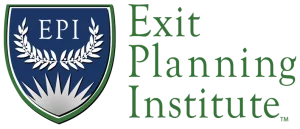 Employee ownership is a valuable exit strategy for small business owners
We would like to extend our gratitude to the expert business advisors who helped provide content and feedback for the EO ExitPro course.
Interested in adding employee ownership to your client offerings?
We can help you identify good candidates already within your portfolio and show you how employee ownership transitions can expand your own business capabilities.