Quaintance-Weaver Restaurants and Hotels
100% employee-owned through an Employee Stock Ownership Plan (ESOP)
In 2016, Quaintance-Weaver Restaurants and Hotels (QW) became 100% employee-owned through an ESOP (Employee Stock Ownership Plan). This move made them one of the few  employee-owned hospitality companies that combine both restaurants and hotels.
QW employs over 600 workers across its portfolio of businesses, which includes the O.Henry Hotel, Proximity Hotel, Print Works Bistro, Green Valley Grill, and Lucky 32 Restaurant in Greensboro, NC, where the company is headquartered, as well as another Lucky 32 location an hour away in Cary, NC.
At first glance, a company in the hospitality business like QW might seem like an unlikely fit for an ESOP. An ESOP is a qualified retirement plan, like a 401(k); they reward employees who stay with a company long-term. The hospitality industry, on the other hand, is notorious for having near-100% annual staff turnover.
The more you get to know QW, however, the more it becomes apparent that employee ownership is a perfect fit. The values at the heart of employee ownership — fairness, inclusion, equity, working together toward a common goal — are the values that have driven QW since its inception.
Firsthand appreciation
QW co-founder Dennis Quaintance got his start in the hospitality industry at the age of 15, working as a housekeeper's assistant in Missoula, Montana. By the time he finished high school, he had worked his way up to assistant general manager. He then went on to work in hotels across America before moving to Greensboro in 1978 to help a friend start a restaurant.
So when Quaintance partnered with his friend Mike Weaver to start QW in 1988, it was not as a jet-setting restaurateur and hotelier with visions of luxury living, but as someone who had a keen firsthand appreciation for the hard work, dedication and attention to detail required to keep a hotel or restaurant running smoothly.
His wife, Nancy King Quaintance, shares that appreciation. Like Dennis, she got her start in hospitality when she was 15, working as a dishwasher. The two met when she worked at a restaurant he was running. She went on to build a thriving career in the hotel world before formally joining QW in 1994.
Their appreciation for hospitality workers and the crucial role they play in their broader community are clear in QW's mission statement: "To be of genuine service to our Guests, Fellow Staff Members, Owners, and the Earth & Her People."
As Dennis approached his 60s, he started thinking about how to ensure that those values would endure after he eventually stepped down from his leadership role.
"I've observed that ownership drives governance, governance drives priorities, and those priorities drive operational leadership," he said. "So if we wanted QW's values to survive an eventual transition in leadership, we needed to start with ownership."
Quaintance soon came to the conclusion that there could be no better or more fitting steward of the QW's values than the people who put them into action every day—their employees.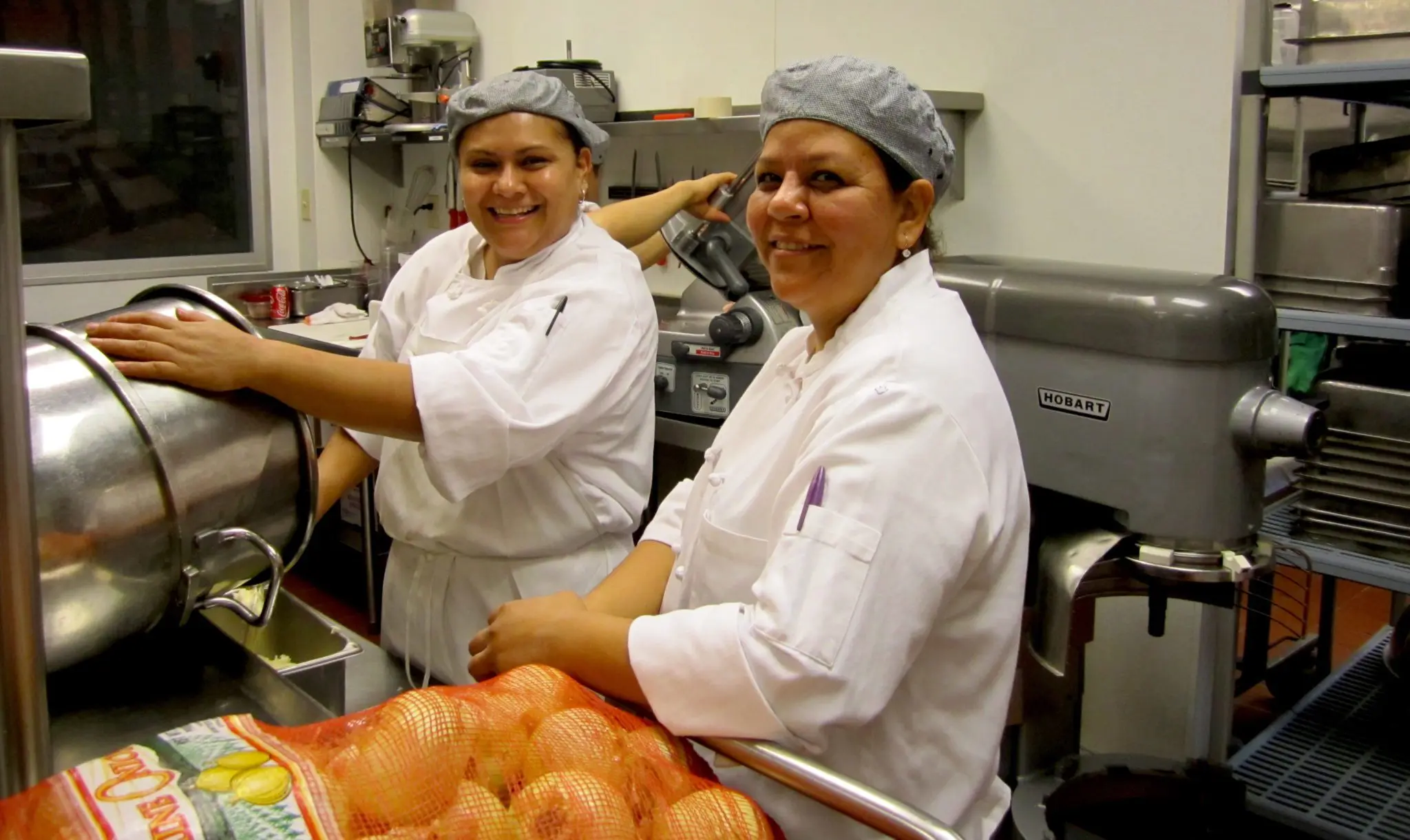 Following their mission
Each of the communities mentioned in QW's mission statement is well-served by QW's decision to become employee-owned.
The guests at QW's restaurants and hotels get to enjoy being served by workers who are willing to go the extra mile because they have a genuine stake in the business. And supporting employee-owners can be a powerful motivator for customers. A recent report showed that around 40% of customers say they are more likely to buy from a company they know to be employee-owned.
The many repeat customers at QW's businesses also get the comfort of knowing that those businesses will still be there for them to enjoy even after the original leadership steps down.
An often-undervalued benefit of employee ownership is that it keeps businesses locally owned and operated. Instead of selling to a conglomerate that might strip a business for parts, the owners can sell it to their employees who understand what makes the business special and have a vested interest in keeping it intact.
Aligned interests
In a 100% employee-owned company, any decision that benefits the employees benefits the owners, and vice versa.
"For all the years that we've been a company, I've talked about aligned interests," Quaintance said. "Why is it in my best interest to bust my can around here? Because any time you can help a dollar stay in the company or come into the company, you're enhancing your own account and the account of the people you work with. ESOPs are really the prime example for aligned interests."
Of course, while QW is 100% employee-owned, not every employee is an owner. It takes three years of employment for a worker to become vested, meaning they are eligible to receive the value of their stock ownership upon retirement or leaving the company.
Still, Quaintance and Weaver were attracted to the idea of employee ownership in large part because of its transformational power to turn lower-paying jobs into viable long-term careers. Not only can that decrease turnover—QW saw a 5-10% reduction in turnover in the first few years after implementing their ESOP—it can have a remarkable power to increase the wealth of traditionally disadvantaged communities.
Black and Brown workers are disproportionately likely to work in lower-income jobs such as housekeeping. And as Quaintance notes, "An ESOP allows us to create a situation where a person working in housekeeping for 35 years would have enough money at retirement to put a down payment on a house, or to send their kids or grandkids to college, and the company can still be competitive out in the world."
This is not wishful thinking. As explained in Project Equity's white paper The Case for Employee Ownership, low-income workers at ESOP companies often have hundreds of times more in retirement savings than their peers at traditionally-owned companies. And a 2021 study published in the Harvard Business Review showed that if American businesses universally adopted 30% employee ownership — not even 100% like QW — the median wealth among Black households would more than quadruple.
Even for those workers who may only plan to work at one of QW's businesses for a year or a summer, and thus are not able to reap the financial rewards of the ESOP, Quaintance feels that being part of an employee-owned company creates a more positive and engaging workplace.
"I think there's a benefit to the experience of being in an environment where it's employee-owned," he said. "It's more likely that you'll work next to someone who has a relatively selfless attitude about being a service to their colleagues and to others."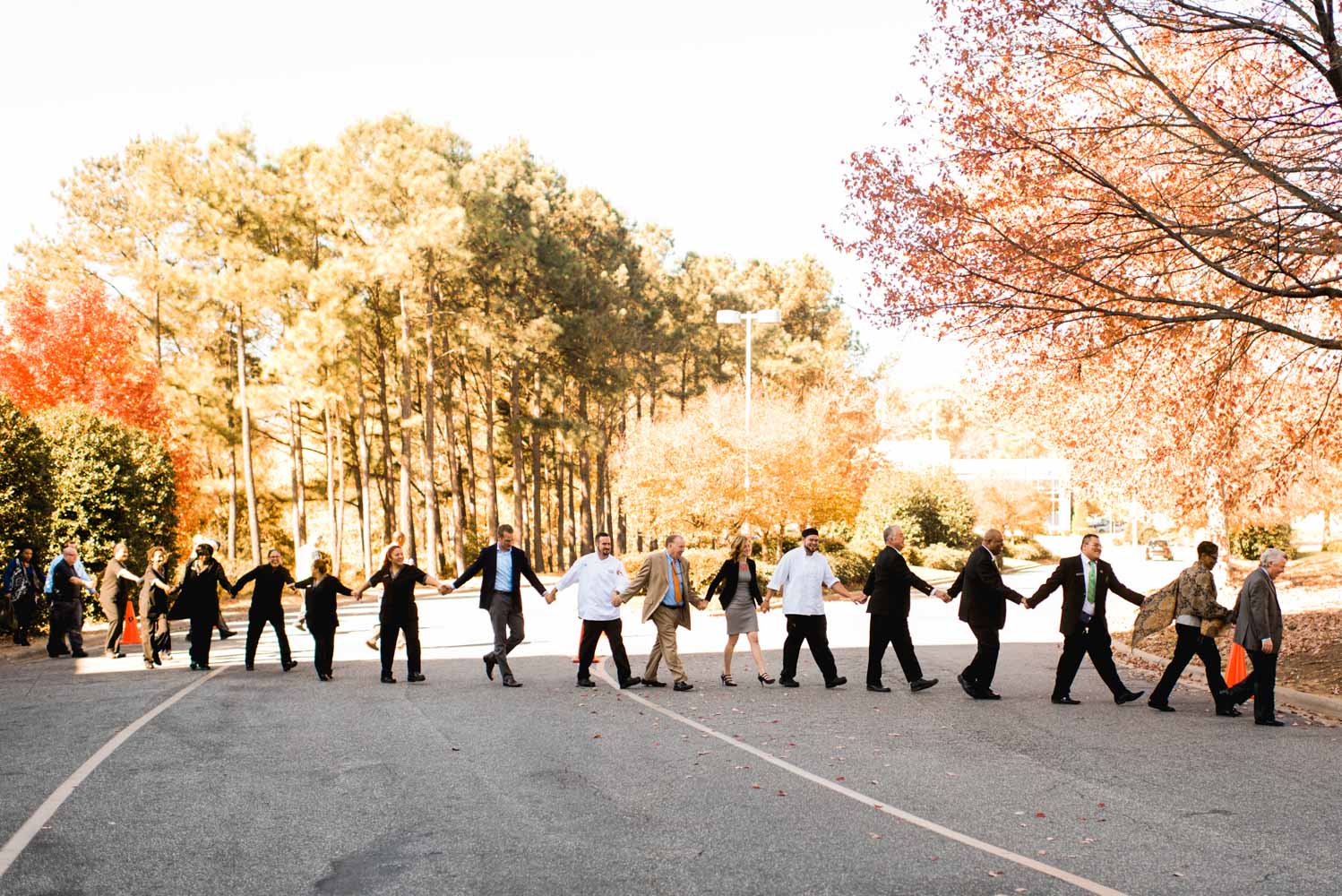 The "empty chair"
QW's first hotel, which opened in 1998, is called the O.Henry, an homage to both the great American short story writer who hailed from Greensboro and the iconic Greensboro hotel bearing his name that was torn down in the late 1970s.
In 2007, QW opened the Proximity Hotel, named after one of Greensboro's early textile mills. The Proximity and its neighboring eatery, Print Works Bistro, were the first hotel and restaurant in America to receive the US Green Building Council LEED Platinum Certification. The Proximity is home to the first elevators in America that actually generate electricity.
The choice to make the Proximity such an environmentally-friendly hotel arose from QW's commitment to weighing the long-term impact of their actions.
"When we're making big decisions, we literally leave a chair empty," Quaintance said. "We say, 'that's for someone who will be born in twenty years, and now it's twenty years after that.' They're the ones who are going to feel the impact of the social constructs that you employ, or the financial ones, or the building ones. So we want to ensure they have a voice."
The employee-owned QW takes this thinking to the next level, encouraging leadership to look beyond their own tenure and think about what their decisions will mean for the business, its community and its employees' retirement accounts decades down the line.
Enhancing the culture
QW was founded on the idea of being of service to one another and to all the communities they touch. Becoming employee-owned ensured that idea would outlast its founders by making it a part of the company's very structure.
In a 2017 article about QW's ESOP, Quaintance told Business North Carolina, "We sold the business, but we did not sell the culture. In fact, we enhanced the culture."
Since implementing their ESOP, Quaintance has counseled other CEOs about moving to employee ownership at their own companies. Several of those companies are now 100% employee-owned. Some even opted to finance the entire transition themselves, as Quaintance and Weaver did.
He understands the skepticism that other companies in the hospitality field might have toward ESOPs, but believes that they will change their thinking when they see what employee ownership allows QW to accomplish.
"One of the reasons we decided to become a 100% ESOP company was to outperform other businesses," he said. "You might not see other restaurants or hotel companies becoming ESOPs, but once you see one and see that it's doing well, you say, 'why is that working for them?' My hope is that the way it works out for us over the next 20 or 30 years will be an example, and that we'll see a lot more companies in our industry decide to follow in our footsteps."