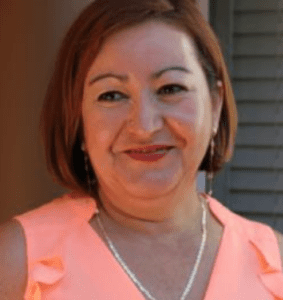 Lupita and her husband arrived in the U.S. as newlyweds with the hope of a better life and dreams of building a home for their young family. Lupita began working at an orange packing facility, but the earnings were not stable and she wasn't able to support her family. They were struggling and she was desperate to find an alternative that met their needs.
Lupita found WAGES (since rebranded to Prospera), and together with a group of eight dedicated immigrant Latinas, developed and launched Eco-Care Professional Housecleaning in 2001. As they began their work as house cleaners, Lupita and the other founding members also took advantage of coaching and project-based learning opportunities provided by WAGES, honing their business skills. After four years, Lupita moved into her new role, managing the co-op's operations. She now speaks English, interacts with clients, and uses QuickBooks and other computer programs—all things she never thought possible.
Because of her efforts, Lupita has doubled her income since becoming a coop member. Reflecting on how far she has come, she says, "I feel like I have accomplished a great deal and I am very proud and content. I am so thankful for this coop and this opportunity to grow and learn and help my family." For Lupita, the best part of co-owning a cooperative business is the "apoyo mutuo"—or mutual support—that members show to one another.
The supportive community and stable job that the coop provides have enabled her to give her four children the steady support they need. Lupita is proud to see her children succeed in their education; her second son was the first in their family to go to college, successfully receiving a degree in Psychology from UC San Diego. In her words, "There is just no comparison. To be supported by a stable job with good pay and benefits is a dream."