Keeping the legacy glowing
How a Berkeley, CA business owner is using an "ESOP-erative" to retire from his solar company
Pictured above, now employee-owners: (front row) Nancy Summers, Steve Broyles, Marge Maceda, Eric Nyman, Jana Darnel-Sabra, (back row) Martin Morehouse, Mark Kollar, Jesse Quay, and Harry Payne.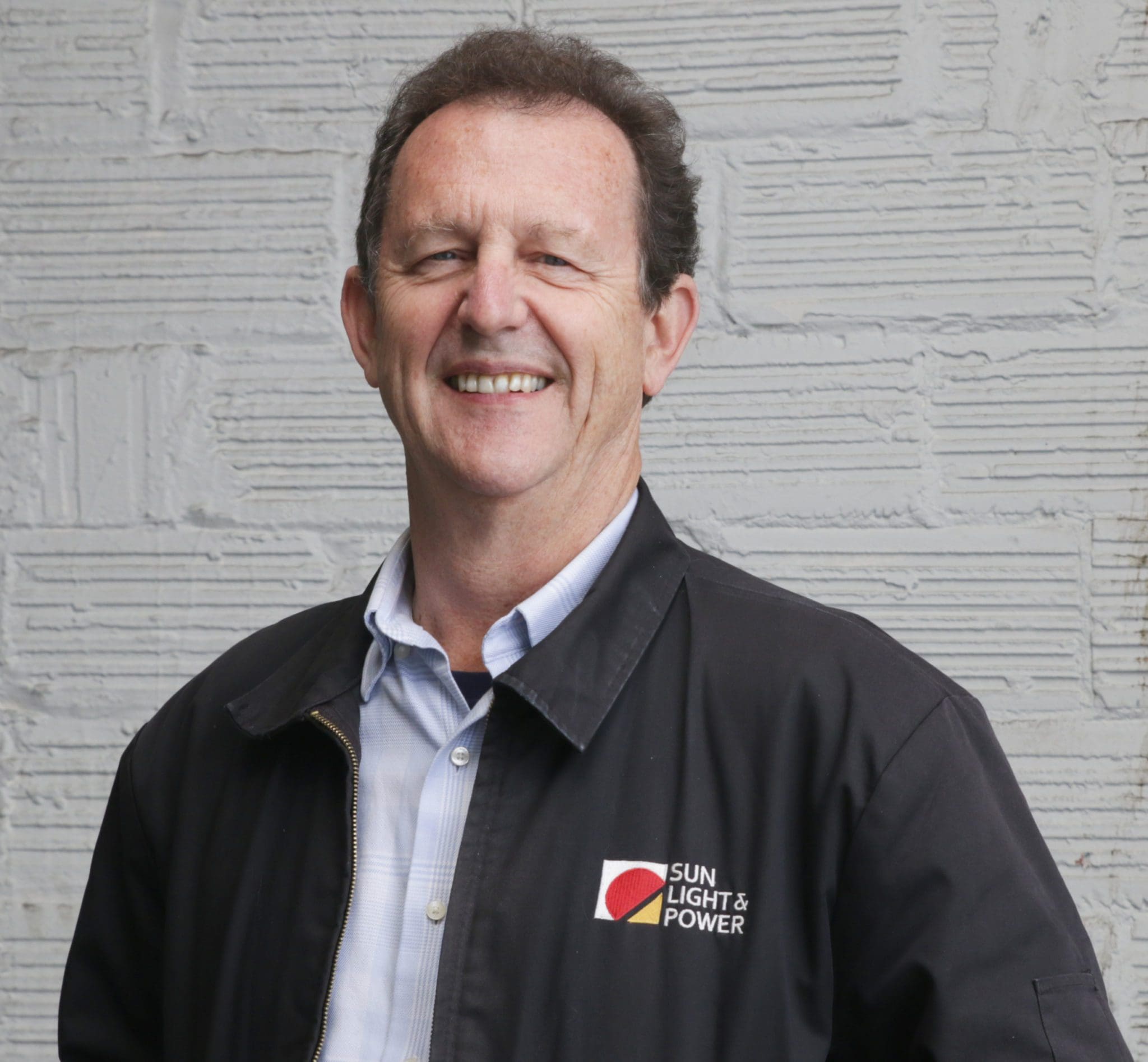 In 2003, Gary Gerber, founder and CEO of Sun Light & Power (pictured left), was installing solar for a client's grocery store when he overheard that they had become employee-owned. This sparked his curiosity and he began to consider this option for his own company.
Sun Light & Power is an 80-person commercial solar design and installation company founded in 1976. Gary had already put in over 30 years with his company, and he and his wife were ready to start talking about succession options.
He was intrigued. The benefits were immediately clear — employee ownership was a way to keep his "baby" and retirement plan intact. He said it best with his statement, "Who better than the employees to carry my baby forward?"
The foundation that led to employee-ownership
Gary was already starting to hire people who were like-minded and passionate about solar, which helped ensure his legacy would continue and also helped build a strong foundation for an employee-owned future.
After careful analysis, he realized it wasn't going to work for him at that time.  He wrote an ESOP plan but put it aside.
At one point he did consider selling his company. He was even approached by a business investor, whose offer was somewhat interesting, but Gary was concerned about the approach and feared that the legacy he grew was not going to be carried forward by this investor.
He also considered leaving Berkeley to save costs but changed his mind. "We realized we would lose many of our employees who biked to work," Gary stated. He believes if he had moved, it would not have been the same company. "If you don't have people, you don't have a business."
About ten years after the first consideration, Gary was ready to start his exit strategy, and in 2016 began the transition to employee ownership using an ESOP. Sun Light & Power completed the process in early 2019, and the company is now proud to say it is 100% employee-owned. 
The "ESOP-erative" structure was born
Gary wanted the type of employee ownership that allowed for a democratically-controlled business, with the worker-owner culture of a cooperative, but with the tax benefits of an ESOP. 
Working with his advisors, he figured out a way to combine the two, creating what they call an "ESOP-erative." This creation was the result of a collaboration between two organizations —The Beyster Institute, an education and consulting institute specializing in employee ownership and based out of UC San Diego's Rady School of Management, and the ICA Group, a nonprofit that provides consulting and technical assistance to businesses converting to worker ownership.
An ESOP structure generally favors the higher salary employees, since the more you make the more shares you get of the company. What Gary did, with the help of his advisors, was structure the ESOP in a way that offsets this bias. They developed a formula so that half of the stock is divided equally among all of the employees. They took the rest of the stock and divided 25 percent based on years with the company, and the other 25 percent based on salary.
Gary then created a body of employees that he calls the Cooperative, which is open to all employees once they meet certain requirements. The Cooperative selects the candidates for the board of directors, who are then voted on by the entire company on a "one worker – one vote" basis. 
Cooperative culture and job satisfaction
One of the many things Gary likes about an ESOP is that his 80 employees don't have to buy in. He felt this was important to give his employees (and future hires) the option to become employee-owners.
Sun Light & Power's company culture is gradually changing to be more cooperative, starting with decision-making issues. Gary began with the hiring process, stating that "instead of a top-down approach, we're bringing in the people who are going to be affected by working under the management of that new hire, so they can meet that person and give their feedback."
We asked Gary about the response of employees before and after the conversion to an ESOP-erative company. Gary says engagement has been amazing. "We get an 85% positive response when we gauge employee satisfaction. We have low turnover rates— many of our employees have been with us for 10 years or more."
Gary also likes to make sure that the majority of board participants are also employees. "If a company is going to sustain, it will function best if people have a true say and not just lip service."
Advantages for the business owner
Becoming employee-owned gave Gary a way to pull equity out of his company while still keeping the legacy he worked hard to create. And the transition to an ESOP paid off in more ways than Gary imagined. Besides keeping his legacy intact, he and his wife will be able to retire comfortably. "If the company continues to be successful…essentially the savings on taxes that would otherwise be paid now can pay our salaries," says Gary.
There were no net costs to his business converting to an ESOP, yet many benefits. He retained his legacy, gained tax incentives, and rewarded his hard-working employees. What better way to ensure his solar business continues to shine even as he moves on to retirement.
Sun Light & Power's CEO and Founder, Gary Gerber, is widely recognized as a solar pioneer and industry leader. He is a longtime member of the board of the California Solar Energy Industries Association (now CALSSA) and served as its president from 2007 to 2011. Gary is a professional mechanical engineer, licensed in both California and Washington, as well as a licensed contractor, with both B and C-46 licenses. He is a NABCEP Certified Solar PV Installer Emeritus and has been awarded many honors within the solar industry. Gary also has experience founding and sitting on the boards of various nonprofits and was a co-founder and longtime board member of Build it Green.  
Gary founded Sun Light & Power in 1976, and his extensive solar experience and specialized knowledge make him a popular instructor, consultant and presenter throughout the country. Gary is a graduate of UC-Berkeley, where he earned a B.S. degree in Mechanical Engineering.