Island Employee Cooperative deal structure
Island Employee Cooperative Financing
At a Glance
Island Employee Cooperative is Maine's largest worker cooperative. The retailer made this transition with the support of outside expertise.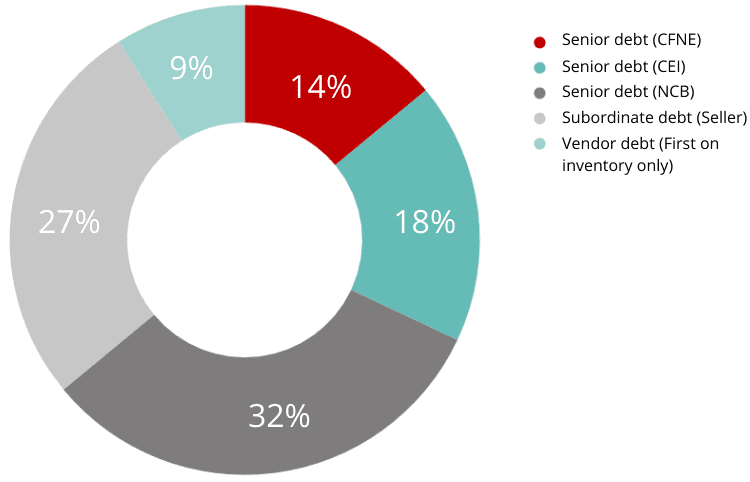 Industry: Grocery/Retail Variety
Location: Maine
Year converted: 2014
Total capital: $5,600,000
Annual revenue at sale date: $12 million
Worker-owner buy-in: $7,000
Worker-owners: 45 (62 employees)
Primary financing source: 5.5%, 7-year term loan, one year interest only, from Cooperative Fund of New England and Coastal Enterprise, Inc.
Lenders: 5
Note: Member buy-in equity was not a part of the close—even though there was $70,000 in equity paid at closing. The 45 new worker-owners committed to paying $7,000 each in equity, totally $315,000, mostly in payroll deductions over time. This money will be used to pay down the debt.
Background
Industry
Island Employee Cooperative, Inc. (IEC, or the Cooperative) is comprised of three successful retail grocery and variety businesses located on the island towns of Stonington and Deer Isle, ME. The Cooperative owns the following:
Burnt Cove Market (est. 1961), a full service grocery store offering a large array of groceries from major manufacturers and locally produced products serving the residents of Stonington, Maine. (Stonington is on the southern end of Deer Isle);
The Galley (est. 1972), a supermarket built to serve the needs of Deer Isle citizens, offering a full array of grocery products as well; and
V&S Variety (est. 1990), which serves the needs of the island by offering a wide range of items including greeting cards, fabric, yard goods, house wares, small appliances, clothes, everyday hardware, and a full service pharmacy. V&S Variety is also the island's gas station.
In addition to these businesses, there are also six rental properties owned by IEC, and managed separately from the three businesses above. The rental properties located in Stonington are adjacent to Burnt Cove Market and in Deer Isle.
Size
IEC purchased a 42-year old business with over $12M in annual sales and 62 employees at the time of conversion.
Cause of Conversion
In 2013, the founding owners, Vern and Sandra Seile (Sellers), decided to sell the stores and retire. The Independent Retailers Shared Services Cooperative (IRSSC) and the Cooperative Development Institute (CDI), became aware of the opportunity and collaborated to facilitate a transition to a worker-owned cooperative.
For several months, the two organizations worked closely with store employees to explore the feasibility and interest, and when 45 employees committed to make investments in the cooperative, they moved forward to incorporate as a cooperative under Maine statutes and negotiate a sale.
How Sales Price was Determined
The sales price of $4,250,000 was based on expert independent market valuation and property appraisal. The Cooperative negotiated final price with the assistance of the IRSSC.
The transaction was structured as a Stock Purchase Agreement, wherein the Cooperative purchased all the outstanding shares of The Galley (the corporation that owned the businesses and properties described above).
Financing
The Cooperative Fund of New England (CFNE) partnered with Coastal Enterprises, Inc. (CEI), another Community Development Financial Institution (CDFI) to finance one third of the sale and almost two-thirds was bridge-financed by sellers. An independent grocers' association (which is itself a cooperative) financed the purchase of inventory.
After conversion, the National Cooperative Bank bought part of the sellers' debt as had been anticipated in the deal.
Prior to the closing, the two CDFIs shared a $25,000 pre-development loan that was re-paid three months later, once permanent financing was secured. Permanent financing of $5.6 M was coordinated by CEI and described in the table below.
Source

 Amount

 Notes

CFNE

 $800,000

5.5%, 7 year (amortized over 20), one year interest-only, with 1st position shared proportionately with other lenders, except shared 2nd position on inventory, guaranteed by The Galley

CEI

 $1,000,000

1st position shared proportionately with other lenders, except shared 2nd position on inventory, guaranteed by The Galley

Seller financing

 $1,800,000

1st position shared proportionately with other lenders, except shared 2nd position on inventory , guaranteed by The Galley. This loan was bought by the National Cooperative Bank shortly after closing.

Seller financing

 $1,500,000

2nd position on all property, except 3rd position on inventory, guaranteed by The Galley

Associated Grocers of New England (AGNE)

 $500,000

1st position in inventory, and interest in all other assets junior to the 1st and 2nd lien holders

Total

 $5,600,000
Use

Amount

Notes

Purchase of Business

 $4,250,000

 

Inventory

 $930,000

 

Working Capital

 $175,000

 

Closing Costs

 $130,000

 Costs included: business valuation, an environmental survey, repayment of a predevelopment loan, legal fees), title  insurance, loan fees, and other filing fees

Technical Assistance

 $115,000

 Technical assistance fees paid at closing, which covered the first year of of assistance from three organizations

Total

 $5,600,000
Underwriting
1. Character (+)
In addition to being well-respected businesses in the community for over 40 years, the key employees managing the stores and becoming worker-owners in the Cooperative have many years of experience in the various roles and a deep connection to the local community. The top seven key employees have over 150 years of experience with the business ranging from eight years to 41 years.
This strength was also one of the key risks identified, namely that training long-time employees to become owners would take time and attention. This risk was mitigated by the careful planning and preparation that went into this conversion, the participation of cooperative developers CDI and IRSSC and the five year training contracts with the three technical assistance providers- CDI for coop governance, IRSSC for industry expertise, and Specialized Accounting Services, for accounting.
2. Capacity (+)
All the businesses and rental properties demonstrated successful financial histories. Previous two years of consolidated financial performance indicated strong sales at $12.5 million in 2012, and $12.7 million in 2013, gross margins of 24% and 24.5%, and positive net income of 672k and 750k, respectively. Gross profit margins were expected to improve in future years with a planned contract with a larger wholesale supplier that would reduce supply chain costs.
3. Capital (-)
Equity in the business was minimal, with a very high post-closing debt to equity ratio of 1140 to 1. However, as a matter of raising capital for purchase, the Board of the Cooperative determined to issue Class B stock for purchase by all Founding Members.
Each Founding Member agreed to purchase one (1) Class A share [voting] for $1,000 per share for founding members, and six (6) Class B shares [non-voting], also for $1,000 per share. These Class B shares earn a targeted dividend and have a 5 year term, at which time the Board may call the shares or may extend the term, depending on the finances of the corporation. Class A shares are available to new employees after one year of service and will cost $7,000 per share. The lower purchase price for founding members partially compensates them for their significant sweat equity contributions during the predevelopment stage.
At closing, 45 of the 62 employees had signed Membership Agreements and Membership Payment Agreements, committing themselves to the cooperative and to paying for their Class A and Class B share purchases either through one lump sum, installments within one year, or payroll deductions over a number of years. Indeed 10 members had made the investment up front, another 8-10 were making the investment over the course of the first year, and the remainder would pay in $50 payroll deductions.
Members agreed that 80% of patronage would be retained in the Cooperative (in accordance with tax laws) to build retained earnings. Nonetheless, the business would be highly leveraged for several years into the future.
4. Collateral (-/+)
Collateral available to secure the 1st position $3.6 million debt consisted of property with appraised property value of $1.475 million, and other assets with book value of $283,000. Additionally the business was independently valued at $2.8 million. Total collateral value was in excess of $4.275 million.
The inventory at closing with book value of $1 million secured AGNE's $500,000 loan.
5. Conditions (+)
The retail grocery industry is highly competitive with significant price and margin pressures. At the time of conversion, the hardware store's sales were recovering from 2008 housing bubble burst, as home sales and renovations began to rise. The pharmacy and drug store industry was expected to grow for two reasons:1) demand for prescription drugs was expected to continue to increase due to the aging population, and 2) a decline in unemployment coupled with an increase in the availability of affordable insurance for consumers under the new healthcare law. Competition was slim as there are no other supermarkets or pharmacies on Deer Isle and only one other hardware store.
There was significant technical assistance committed to support the success of the conversion. The coop had contracted the services of:
Cooperative Development Institute (CDI) for governance support including directors' roles and responsibilities, financial oversight, leadership development and strategic planning;
Specialized Accounting Services (SAS) for accounting and bookkeeping support; and
Independent Retailers Shared Services Cooperative (IRSSC) for management support including due diligence, direct supply chain negotiations, and business planning, training, custom business management tools, and services throughout the conversion of ownership and ongoing for 5 years.
Summarized Financial Information at Time of Underwriting
Summarized Balance Sheet on Apr. 30, 2014
| | |
| --- | --- |
| Current Assets | $1,165,000 |
|  Assets | $5,705,000 |
|  Current Liabilities | $0 |
|  Liabilities |   $5,700,000 |
|  Equity | $5,000 |
Financial Analysis
| | |
| --- | --- |
| Current ratio |  N/A |
| Debt to equity | 1140 |
| Debt Service Coverage projected 2015 | 1.89 |
| Loan to Value (excluding AGNE Inventory loan) | 84% |
Today
Island Employee Cooperative (IEC) is now Maine's largest worker cooperative and one of the larger worker coops in the United States.
Key Lessons / Effective Practices
In all cases, the best practice in buying a business is to require the selling business to provide independently audited financial statements, and not rely solely on internally-generated financial records. This proved true here as well.
Careful planning and consideration in establishing the first board of directors of the new cooperative can also avoid problems down the road. Until the cooperative is functioning fully, and staggered term elections can occur, a first board might consist of independent industry experts or professionals to provide mentoring to emerging leaders of the cooperative. When the business is large in number of employees and the management structure is hierarchical, it may not be in the best interest of the whole cooperative to have management comprise the full board, as was discovered here.
Ultimately, key to the success of the transition was the collaboration and support among cooperative developers, community development financial institutions, and industry-specific support organizations.