Proof for employee ownership
The best way to protect your business and workers during COVID-19?
Study shows it's employee ownership
Employee-owned companies have protected their workers' jobs four times better than other firms and suffered fewer cuts to hours and pay during the COVID-19 pandemic, according to a new study. They also outperformed traditionally-owned firms during the last two recessions. There may be no one-size-fits-all method to make a business recession-proof, but the data is clear: if you want to give your business the best odds of surviving a tough economy, turn your employees into owners.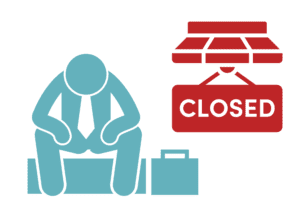 In times of unprecedented challenges, business owners face difficult questions.
How do I keep my business intact?
How do I protect my workers?
How do I ensure we can come back from this?
Protecting jobs is critical for surviving a recession. It is much more expensive and labor-intensive to hire and train new employees than to keep the ones you have. Employees who already know the ins and outs of your business can help you recover much faster than a competitor that first has to rebuild their staff from the ground up.
A groundbreaking study published in 2017 by the Employee Ownership Foundation and the Institute for the Study of Employee Ownership and Profit Sharing at Rutgers showed that companies with broad-based employee ownership—particularly those with Employee Stock Ownership Plans (ESOPs)—tend to be substantially more successful at protecting their workers' jobs than companies without employee ownership. During the 2001 and 2008 recessions, ESOP companies experienced 50% fewer layoffs than other businesses.
Now, new data from the Institute shows that employee-owned companies have outperformed other firms by an even wider margin during the COVID-19 pandemic.
Employee-owned firms retain 4 times more jobs
In October 2020, the Institute, in partnership with the Employee Ownership Foundation, released a new study, "Employee-Owned Firms in the COVID-19 Pandemic." They examined 247 majority or 100% employee-owned companies with ESOPs and 500 companies without employee ownership. Their findings? When it came to protecting jobs during the pandemic, the employee-owned companies outperformed their traditionally-owned counterparts at a rate of four to one.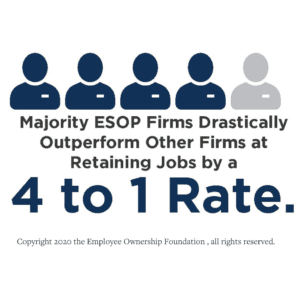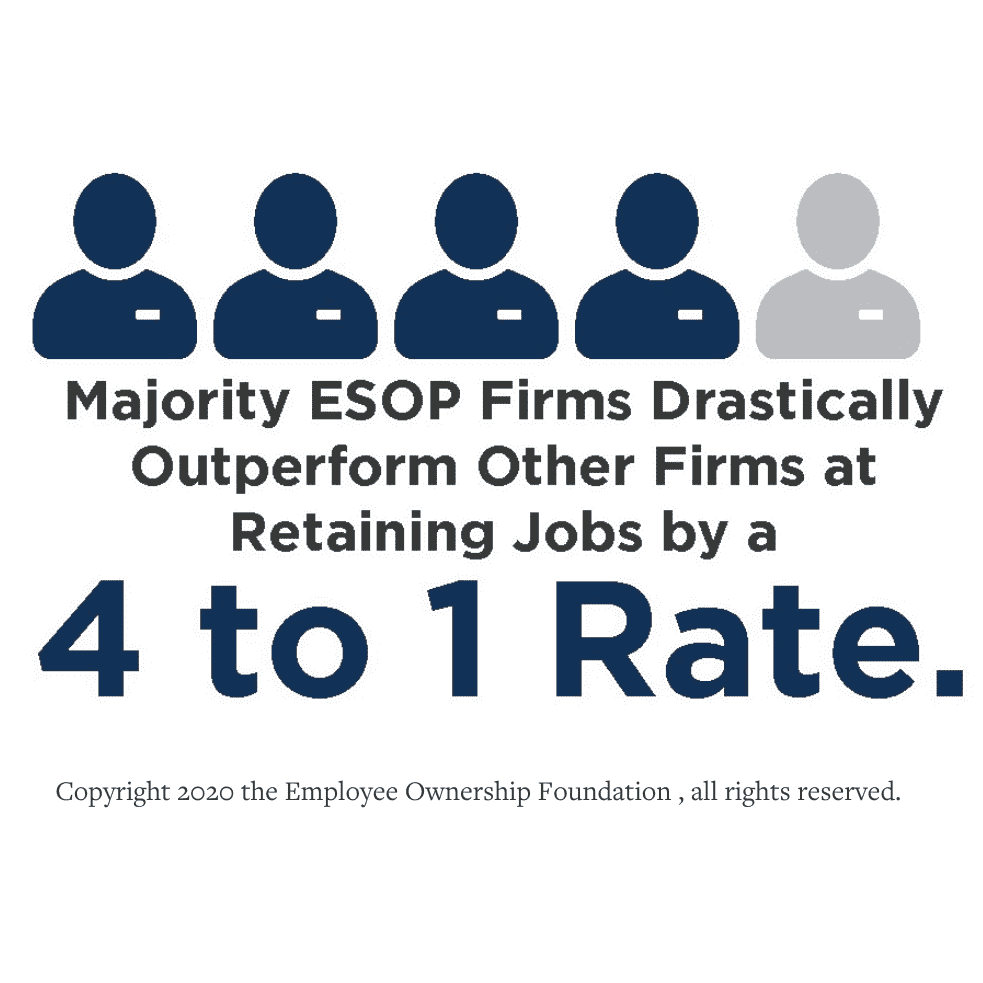 The study showed that, compared to traditionally-owned businesses, employee-owned companies were:
3.63 times more likely to retain non-managerial staff
3.95 times more likely to retain managers
Incredibly, the majority of ESOP companies that received no funding from the Paycheck Protection Program (PPP) still laid off employees at a rate 3.2 times lower than traditionally-owned companies that did receive PPP funding. This suggests that employee ownership is more effective than even federal loans at helping businesses keep jobs intact.
Employee ownership may be more effective than federal loans at helping businesses keep jobs intact.
---
ESOP companies with no PPP funding laid off employees at a rate 3.2 times lower than traditionally-owned companies that did receive funding.
Additionally, the study found that majority ESOP companies were:
Significantly less likely to cut hours for employees: 35.5% of majority ESOP companies cut hours compared to 62.9% of other companies
Able to confine scheduled cuts to fewer employees: 16.4% of the workforce at ESOP companies vs. 25.7% of the workforce at other companies
Less than half as likely to cut employees' pay: 26.9% of majority ESOP companies implemented pay cuts vs. 57.3% of other companies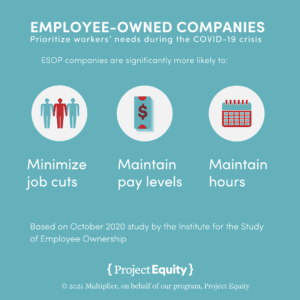 When majority ESOP companies did have to issue pay cuts, they often cut a larger percentage of the affected salaries, on average, than at non-ESOP companies: 41.3% vs. 21.6%. The study's authors believe that the pay cuts were more substantial at ESOP companies because they were more likely to include cuts to manager-level salaries, which are larger to begin with. In essence, when pay cuts were unavoidable, employee-owned companies were more likely to share the pain across all levels of the organization.
This speaks to why employee-owned companies have outperformed other firms during the COVID-19 pandemic, as well as during the past two recessions. It is not that employee ownership automatically imparts any kind of magical immunity to economic upheaval. Rather, when employees have a genuine stake in their company's future, a voice in its direction and an understanding of the challenges it's facing, they are more likely to be willing to come together, make sacrifices and find creative solutions to help one another through hard times.
When employees have a genuine stake in their company's future, they are more likely to come together and find creative solutions to help through hard times.
Companies that embody a worker-first mentality under normal circumstances are, perhaps unsurprisingly, also more likely to take proactive measures to protect their workers in a crisis. The study found that employee-owned companies were more likely than other firms to have already enacted protective measures by the time the pandemic was declared in March 2020, more likely to let employees work from home and more likely to provide personal protective equipment to employees who had to be on-site.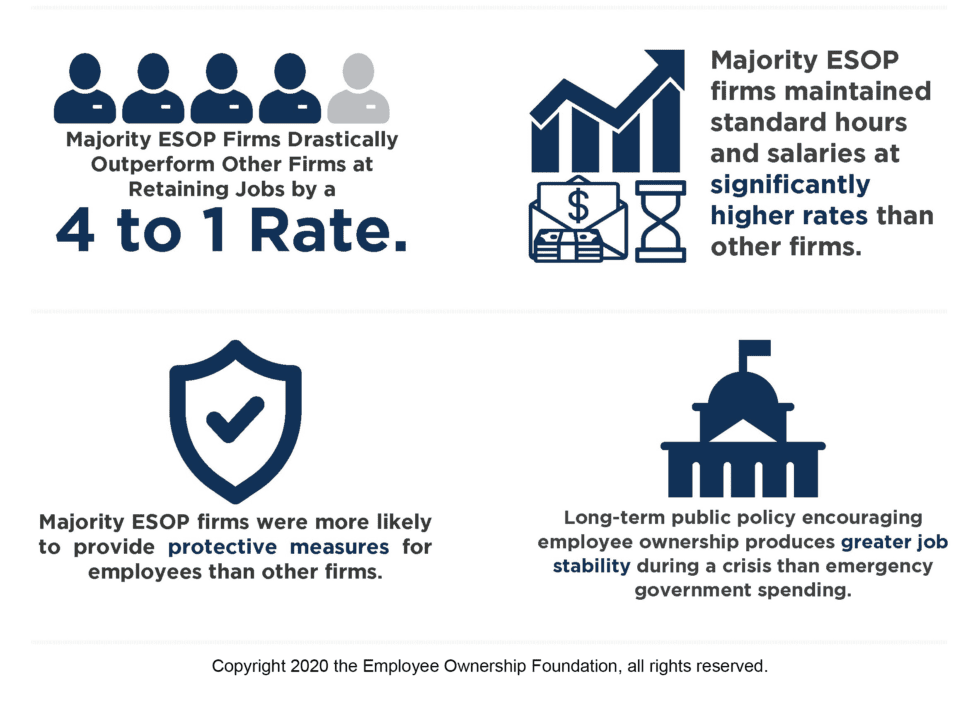 The benefits of transparency
For a prime example of the employee ownership mentality in action, look no further than Project Equity's recent interview with commercial food service equipment manufacturer Hatco® Corporation, a 100% employee-owned company since 2007.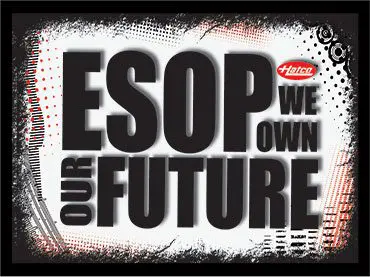 When Hatco's sales dropped significantly in the early months of the pandemic, forcing them to cut hours at their factory from 40 hours a week to 24, they were able to continue paying their employees for a full 40-hour week without eliminating jobs.
How did they do it? They were open, and honest with their employees. As Hatco CEO Dave Rolston explained:
"We were very transparent and explained to them that it is a 'pay me now or pay me later' situation. We told them that every dollar we spend now that we could save by laying them off will reduce their share value in the future. So, our employees were fully aware that it came down to sacrificing a little bit of their future to stay employed now or get laid off and lose everything."
The ownership structure of their ESOP gave Hatco the flexibility to consider a plan like that. But it was the employee-owners' willingness to make sacrifices in order to protect the livelihoods of their fellow workers that empowered the company to put the plan into action.
We are in this together
Hatco's experience is representative of the kind of game-changing impact that an employee-ownership mentality can have, even in the face of challenges like the COVID-19 pandemic. In July 2020, the National Center for Employee Ownership (NCEO) completed a survey of ESOP companies and found that two-thirds of respondents felt that being employee-owned had a "very or somewhat positive effect on their handling of the COVID-19 pandemic," compared to just 3% who felt it hindered their response.
One of the most common refrains among the survey respondents was that being employee-owned and having a shared financial stake in the company's success and survival instilled feelings of trust, togetherness and cohesion—"Very much a 'we are in this together' mentality," as one respondent put it.
It is worth noting that simply being employee-owned does not automatically create a culture of ownership among the employees. Building that kind of culture takes work and an ongoing commitment to transparency and inclusion.
For example, Columbia Forest Products is a hardwood plywood and veneer manufacturer that has been 100% employee-owned since 1984.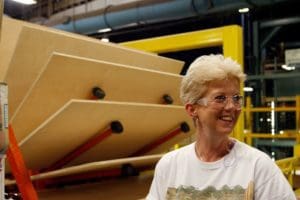 In our recent conversation with Columbia, Jeff Wakefield, their VP of Human Resources and Development, cited their long-term commitment to transparency across the organization as a key reason why the company has survived one economic downturn after another, and is well-positioned to come out of the COVID-19 pandemic in a strong position.
"I'm humbled by our team members as far as understanding what we were facing, how we were responding and being willing to do what was needed, so we could contract and then come back and return to a point where we're in a position to succeed. They know it's not just about me. This is about, 'How do we help Columbia stay healthy? How do we help each other?'" Wakefield said.
Employee-owned companies feel better about the future, for good reason
The recent Rutgers Institute study concludes its summary by looking at how businesses feel about their future prospects. In perhaps the study's most stark statistic, the companies they examined that do not have employee ownership were 5.7 times more likely than the employee-owned companies to say that their business "would never return to its usual level of performance."
Employee ownership does not automatically make businesses more resilient, or more attractive to customers. That resilience comes from fully embracing a culture of employee ownership and enacting policies that put workers first (the substantial tax benefits that ESOPs enjoy don't hurt, either).
It is no accident that companies like Hatco and Columbia Forest Products feel that their ESOPs have put them in a good position for a post-pandemic recovery. Both companies have put years of effort into creating and maintaining their employee ownership culture. If there is one thing to learn from their example, it is this: the best step you can take to protect your business from the next recession may be to begin building a culture of employee ownership today.