C2BE grows employee ownership opportunities in Metro Detroit

Project Equity is thrilled to welcome our newest Outreach Partner, the Center for Community-Based Enterprise (C2BE), a nonprofit based in Detroit, Michigan. Founded in 2007, C2BE creates living-wage jobs through worker ownership, especially among people in historically underserved communities. Our partnership focuses on highlighting the opportunity for conversions of privately-held businesses to employee ownership in the Metro Detroit region to support C2BE's hands-on engagement with these businesses.
Our recent jointly-released study of businesses that are at risk of closing in Metro Detroit indicates there are more than 35,000 businesses owned by baby boomers in the 7-county region. Since only about 15% of these business owners have an exit strategy, what will happen to the 400,000+ people currently employed by these businesses when the owners retire? C2BE works to anchor these jobs locally in the Detroit region by helping business owners build solid succession plans to sell their companies to their employees.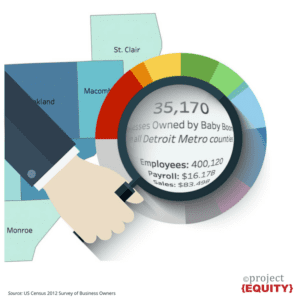 Our new partnership with C2BE is increasing awareness within the Detroit community and among business leaders to address this looming job loss crisis. C2BE has the opportunity to keep many of these businesses open and locally-based, retain good jobs, and strengthen the communities in the Detroit metro region through employee ownership transitions.
Photo credit: Thank you to C2BE for allowing us to use the beautiful mural photo above