ARPA and employee ownership
ARPA helps economic resiliency through employee ownership
How local communities are using the American Rescue Plan to invest in economic resiliency through employee ownership
When the COVID-19 pandemic hit California in 2020, a solar design and installation company, Cal Solar, was experiencing unprecedented disruption to their business. Like many across the country, the future of their business and the livelihood of its workers were at a breaking point.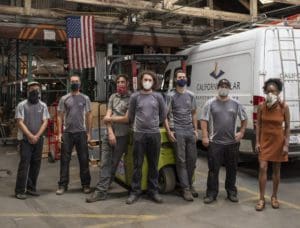 But Cal Solar had an edge: the company had transitioned to employee ownership in 2019. Because their employees were also owners and had a meaningful stake in the business's ability to weather the pandemic, their team came together and launched a brand new line of business. They became home energy battery storage resellers.
Their innovation allowed Cal Solar to meet its 2020 projections, maintain and grow their team, and increase their wages by over twenty percent – all in the middle of a global pandemic.
Employee ownership is a proven tool to create resilient and thriving businesses, but how can local governments advance employee ownership in their local economy?
How ARPA helps communities unlock the power of employee ownership
The American Rescue Plan (ARPA) is one funding source that local communities are using to unlock the power of employee ownership to support economic resilience and equitable recovery. The American Rescue Plan was launched to provide relief and recovery to workers, families and the American economy in the wake of the COVID-19 pandemic. Within ARPA, State and Local Fiscal Recovery Funds (SLFRF) specifically are charged with supporting a strong, resilient, and equitable recovery and investments that support long-term growth and opportunity.
Tucson, Arizona
The City of Tucson is one municipality that sees employee ownership as a strategy for economic resilience and is using APRA funding to bring employee ownership to businesses in Tucson. The City allocated SLFRF funds to provide relief for families, essential and frontline workers, and small businesses. One of their ARPA-funded grants is to Project Equity to advance three goals:
Understand the data: How many businesses owned by baby boomers are at risk of closing, or of being sold to outside owners who might dismantle the local business?
Raise awareness: Reach out to businesses regarding succession planning, including the option of transitioning to employee ownership; and
Educate & support businesses interested in employee ownership: Provide technical assistance for businesses to assess the feasibility of employee ownership and begin the process of an employee ownership transition.
Berkeley, California
Other cities across the U.S. are also finding innovative ways to support employee ownership. The City of Berkeley, California received national press for their 2019 investment in employee ownership to maintain and strengthen their beloved, legacy businesses. In addition to ARPA funds, communities have tapped into Community Development Block Grant, Workforce Development, and Small Business Administration funds as well as city general revenue and other sources to support employee ownership.
Cities and states across the nation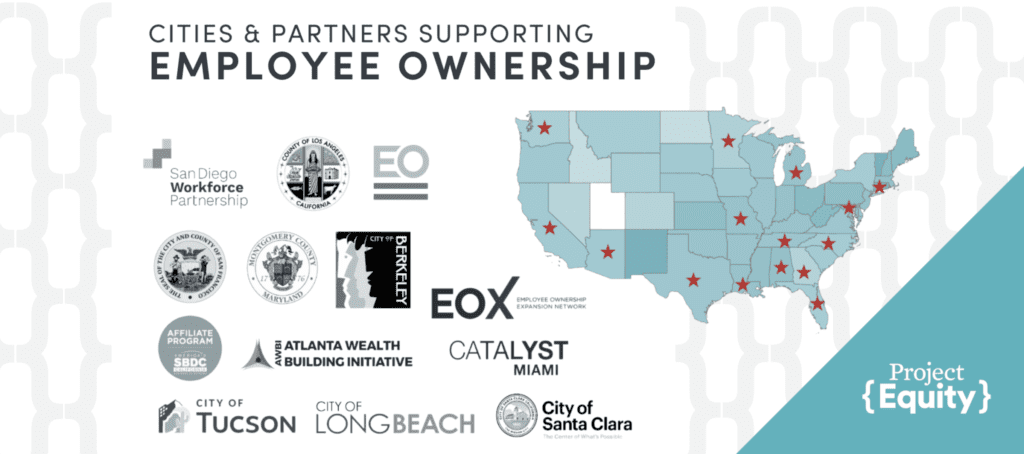 How ARPA funds for employee ownership can help frontline workers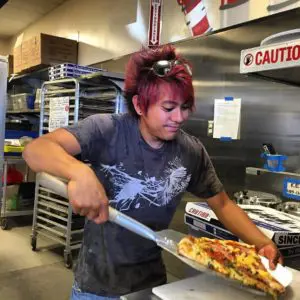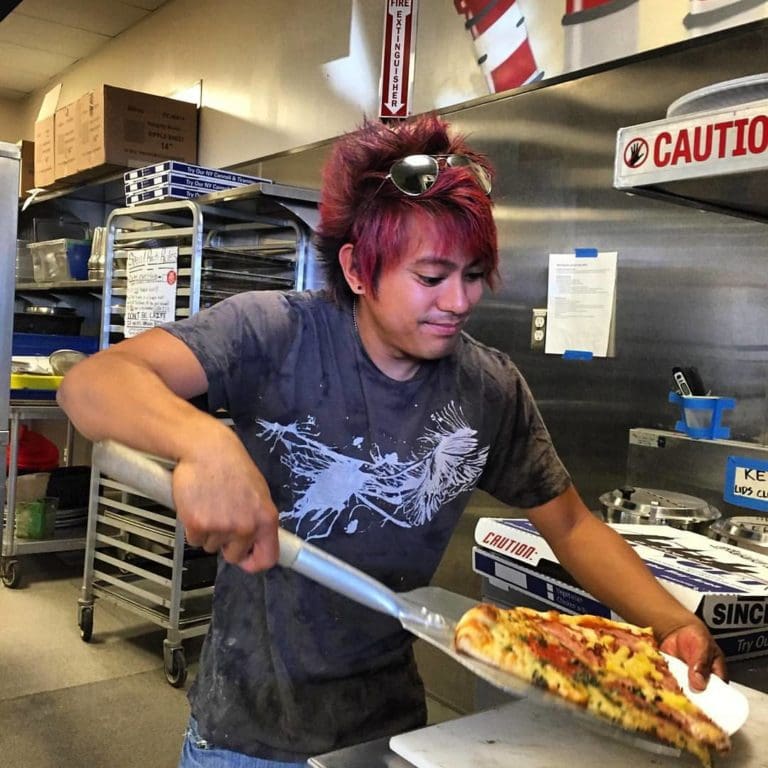 These investments have not only strengthened businesses, they have had a large impact on the financial stability of frontline workers. A Slice of New York (ASONY) is a pizza shop that became employee-owned in 2017. Founders Kirk Vartan and Marguerite Lee were able to get a fair price for the profitable business they had created. Just as important to them, they were able to turn their business into a vehicle to create wealth for their 30+ employees. In the first two years after their transition, ASONY shared over $500,000 in profits with their employee-owners.
Moreover, ASONY is a prime example of an employee-owned business that fared better than many traditionally-owned businesses amidst the pandemic. Coming together as a team to make pivotal decisions, ASONY did not furlough or terminate a single employee during the COVID shutdowns. In fact, they shared nearly the same level of pre-COVID profits with their employees.
ASONY's story is not unique. A 2020 study by the Employee Ownership Foundation and Rutgers University showed that, during COVID business shutdowns, employee-owned firms were four times more likely to retain employees and six times more likely to say they expected to make a full recovery.
How employee ownership supports economic resiliency and growth
Why is employee ownership such a powerful strategy? In The Case for Employee Ownership, Project Equity summarizes research on how employee ownership is a triple win: it benefits businesses, workers, and the community at large.
Employee-owned businesses are stronger through:
Lower turnover: Workers at employee-owned businesses have 46% longer job tenure than their peers in firms that are not employee-owned (NCEO 2018).
Higher productivity: Employee-owned enterprises reported productivity levels that were 9–19% higher than levels in traditionally structured similar businesses (Lampel, Bhalla, Jha 2014).
Higher profits: Employee-owned firms have an average profit margin almost 8.5% higher than comparable firms (DAWI 2014).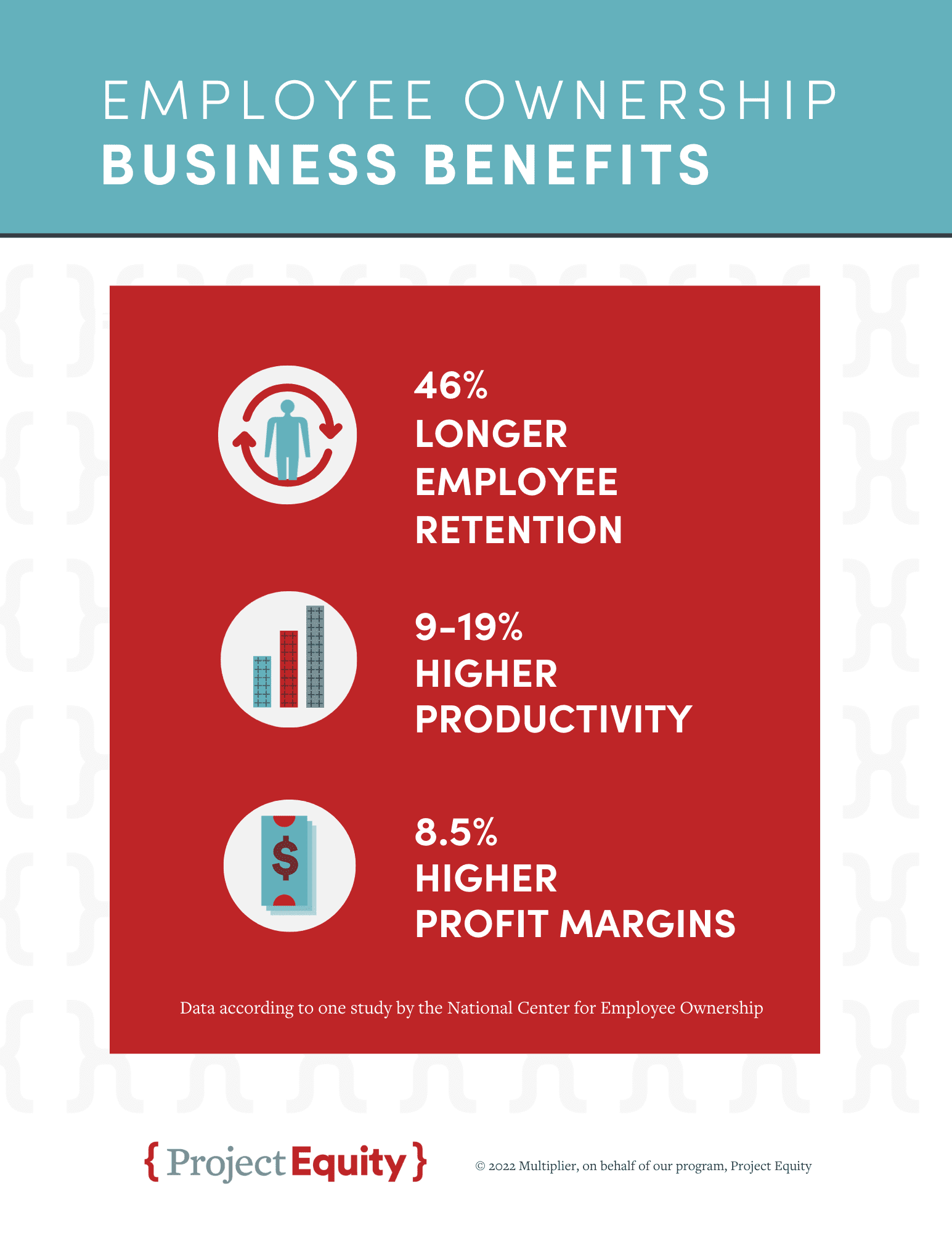 Employees are stronger through:
Equal or better pay and benefits: Employee-owners have 33% higher median wages when compared to employees like them at similar companies with traditional ownership structures (NCEO 2017).
Enhanced job security and stability: during the Great Recession, employee-owners were five or more times less likely to be laid off than employees who did not share in ownership (Rosen, Kurtulus & Kruse).
Increased economic mobility & equity: Employee-owners build assets through profit sharing, retirement savings and/or shared business ownership.*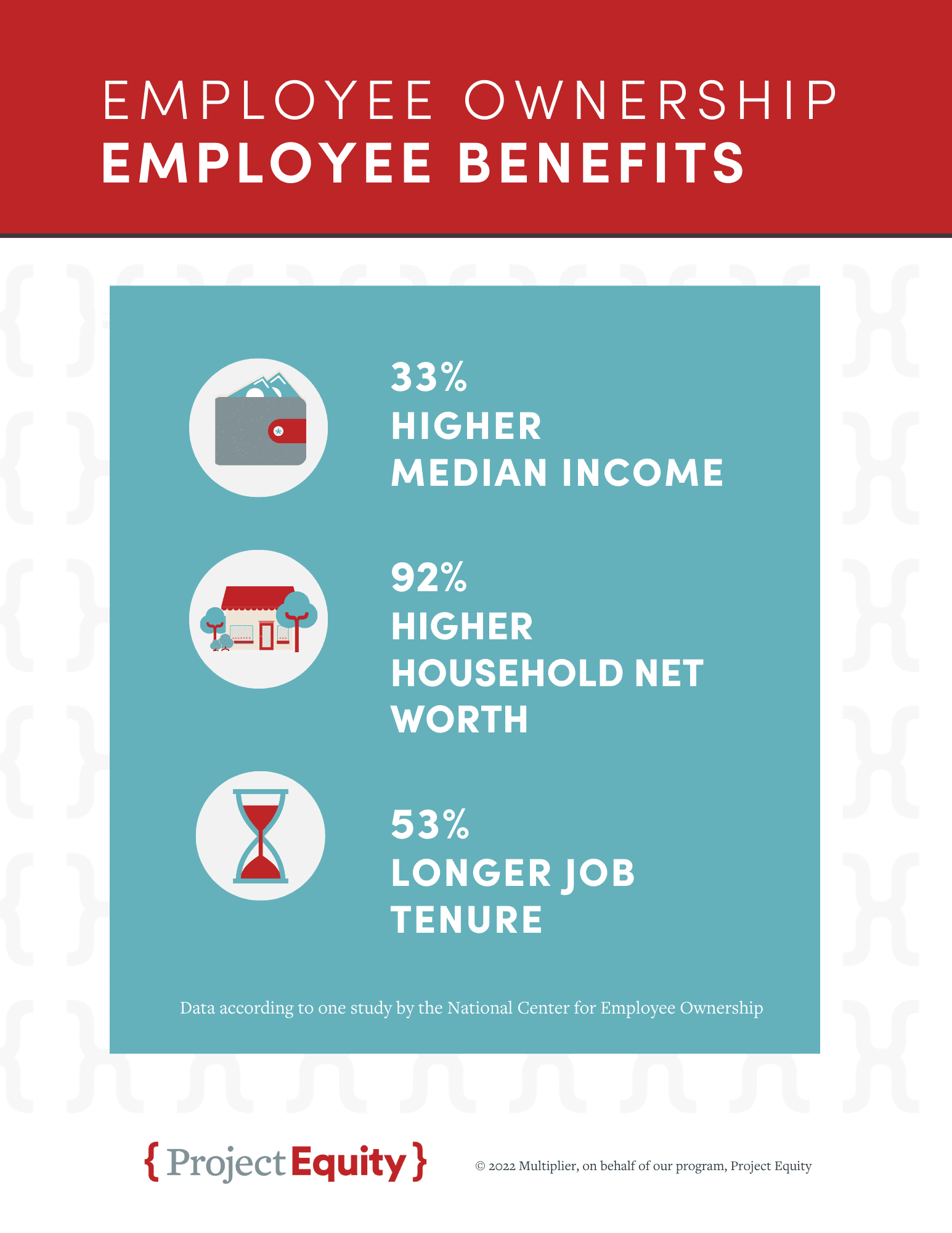 *Participants in a 2019 study reported median retirement savings of $215,000, compared to $17,000 in median retirement savings for the average worker nationally, (Boguslaw & Schur 2019). A 2019 study confirmed that people of color working in ESOPs have substantially more wealth than their peers nationwide (Boguslaw and Schur), indicating that employee ownership can help reduce the racial wealth gap. 
ARPA funding enables cities and counties to invest in resiliency, and employee ownership can deliver on that promise. Contact us to learn how cities and counties in different parts of the U.S. are launching employee ownership initiatives and increasing the resiliency of their small businesses and their workforce.