Succession Planning for Purchasing Cooperatives and their Members
Purchasing cooperatives are a special type of highly engaged independent small business networks.
A purchasing coop is itself a business, one that is owned by its member businesses—typically in the same industry—that come together to aggregate their purchasing power and receive other network benefits.
Most purchasing coops exist to help independent businesses remain independently-owned. Some that may be more familiar include ACE Hardware, True Value and Carpet One. And, there are many in the business-to-business space that are less well known but provide vital services to local businesses around the United States.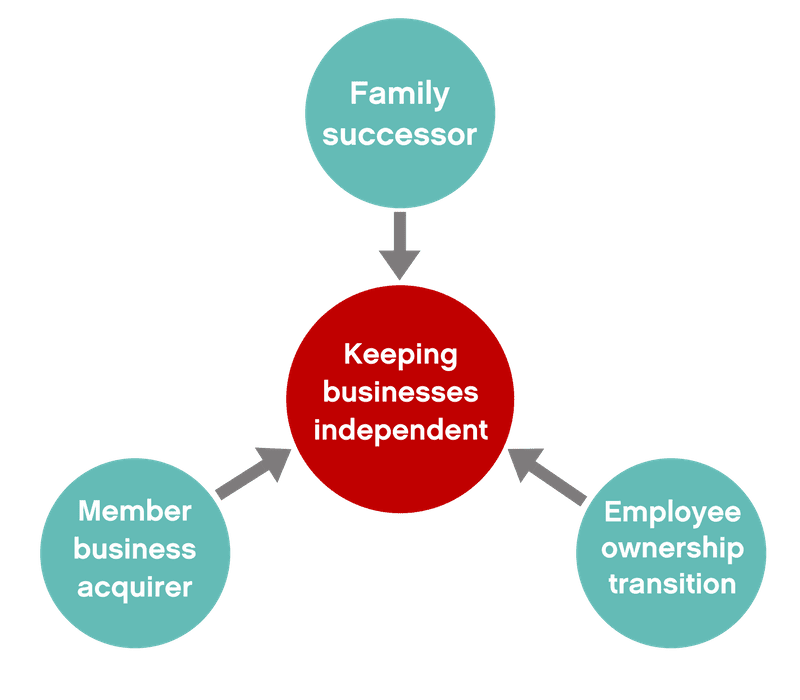 One of their challenges is that, from our research, an estimated half of the member business owners are over age 55. Succession planning is critical to maintaining member companies in purchasing coops, and in any small business network.
Project Equity partnered with National Cooperative Bank and the National Cooperative Business Association to look at how purchasing cooperatives can retain their member businesses through succession planning and employee ownership transitions.
Interested in learning more?
Project Equity partnered with NCBA-CLUSA and Castle Wealth Advisors to offer a 3-part webinar in 2017 focused on purchasing cooperatives and their member businesses. Slideshows and links to recordings (where available) are found below, along with an additional webinar from December 2016.
Succession Planning: How to Engage Purchasing Coop Members in Their Future
Part 1 of the Succession Planning series featured CEO of Castle Wealth Advisors Gary Pittsford and Executive Director of Project Equity Alison Lingane talking to purchasing co-op management about "how to engage members in their future."
Succession Planning: Selling to Family and Selling to Members
Part 2, "Selling to Family and Selling to Members," led by Castle Wealth Advisors, covers additional ways to help business members craft an exit strategy.
Worker Transitions vs. Roll-ups
Part 3 in this series will help business owners compare selling a business to the employees versus selling via a private equity roll-up. This one is presented by Castle Wealth Advisors and Project Equity, and joined by the CEO of BLUE HAWK Purchasing Cooperative, Lance Rantala.
Succession Planning for Purchasing Coops and their Members 
The slides from this webinar feature case studies on how the owners of Amicus Solar and an Ace store in Maine sold their companies to the employees and became cooperatives.